Current Location:

Other room

Current Mood:

shocked

Current Music:

The Living End - End of the World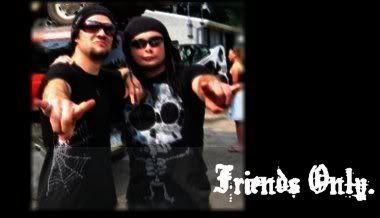 Friends only. Got it memorized?
Just comment here and I'll add you. My name's Megan and I'm okay. I like racecars, loud music, macros, and food. I am easily amused. I am easily angered. I am an infamous liar but all of the above is true.
Current Music:

Children of Bodom - Oops I Did it Again (Britney Spears cover)
Copy-pasted from overheard at newyork/thebeach/theoffice.
Wasted Away Again in Marymagdaville
Owner: Oh shit. I just spilled tequila on the church fliers.
My Taste Buds Are Resurrected
Excited graduate assistant: Cadbury cream eggs are like the Jesus of Easter!
Faculty passerby: Wait, what?
Nurse, screening for life insurance: So tell me about your siblings...
Male worker: Well, I have 3 sisters, two older and one who's a twin. I'm the youngest by two minutes.
Nurse: Oh, really? You have a twin sister? Are you identical?
Male worker: Are you serious? You're a professional nurse and you're asking me if I'm identical to my twin sister? Is this screening over because I've got work to do.
Guy engineer
#1
: Hey, want a muffin?
Guy engineer
#2
: Dude, you're my muffin.
Guy engineer
#1
, in small voice: I feel uncomfortable now.
Non-native presenting for speech class: Everyone has cows in their life. Cows at home. Cows at work. Cows in our families. Cows can take over everything. But how do we get rid of the cows?
Teacher: Chaos. It's pronounced 'chaos.'
I have this lame habit of copypasting funny shit to a notepad doc on my computer. So here is some funny shit.
Current Mood:

chipper

Current Music:

Dimmu Borgir - Spellbound by the Devil